For the past 20 years, every November, Alpine Community Center volunteers organize the Alpine Holiday Festival.
This year the festival will be held November 12, 2022 from 9am to 4pm at the Monroe Grade School, 600 Dragon Drive, in Monroe.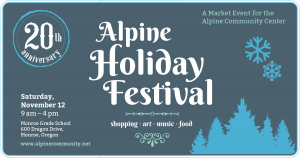 This free annual event has become a traditional gathering where neighbors meet for holiday festivities, and local artisans and crafts-people have an opportunity to showcase and sell their wares – perfect timing for holiday shoppers who like to support local.
The festival includes food, live music, raffle, and a fashion show of clothing and accessories from Alpine Community Center's own Monroe Resale Shop.
𝐕𝐞𝐧𝐝𝐨𝐫 𝐒𝐩𝐨𝐭𝐥𝐢𝐠𝐡𝐭:
Saucy Jewelry
Honey Tree Apiaries
Jenanigans
Lilliputopia Farm Store
Acorn Studios
Able Hemp
Iola's Wreaths & More
Marcy's Woodcrafting
Elderberry Quilting
Accent Yourself Jewelry
Seven Small Stones
Cards by Sharon
Alpine Art and Garden
Maple Burl Bowls by Mark Choitz
Jan E O Jewelry
Roaming Roo Farm
Dragonfly Studio Glass


𝐑𝐚𝐟𝐟𝐥𝐞 𝐃𝐨𝐧𝐨𝐫 𝐒𝐩𝐨𝐭𝐥𝐢𝐠𝐡𝐭:
Broadley Vineyards
Grocery Outlet, Junction City
Trader Joes
Conser Quarry
Bluebird Hill
Garland Nursery
Jeanni's Garden
Honey Tree Apiaries
Lilliputopia Farm Store


All profits from the the event support Alpine Community Center operations or capital improvements. Update: All vendor spots taken for this year. For more information or to request a vendor application, please send an email to alpinefestival@gmail.com
Want to:
Volunteer at the event?
Donate a Pie?
Donate to the Raffle?
Email alpinefestival@gmail.com