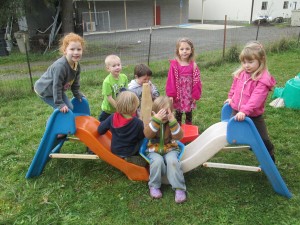 Since 2003, we've been helping the parents of South Benton County get their children ready for kindergarten and a lifetime of learning.
Parents are vital contributors in a cooperative preschool. Our preschool operates under the direction of a teacher, supported by the Board of Directors, while parents assist with classroom duties. The teacher, who is hired by the Board of Directors, implements the curriculum and maintains standard procedures for the school program. By providing a safe, playful learning environment, we give children the opportunity to develop intellectual, social, and motor skills.
Classes are held Monday-Friday (following the Monroe School District calendar for holidays and weather closures) with the 3–4-year-olds (Littles) attending on Tuesday and Thursday from 8:30 to 11:00 and the 4-5-year-olds (Bigs) attending on Monday, Wednesday, and Friday from 8:30 to noon, with parents taking turns assisting the teacher.
Alpine Cooperative Preschool is a member of the Parent Child Preschools Organization.
We do not discriminate with regard to race, religion, sex, or national origin.
Tuition Fees
Tuition fees depend on the age of the child (as of September 1st) and whether the family participates in the co-operative program through parent participation in classroom programs. (Some scholarships are available those for whom these fees are difficult.)
| | | |
| --- | --- | --- |
| | Littles | Bigs |
| Co-op families | $650/yr, $65/mo | $800/yr, $80/mo |
| Non Co-op families | $750/yr, $75/mo | $900/yr, $90/mo |
For all details about enrolling your child in the Alpine Cooperative Preschool and about participating in the program, read the Preschool Handbook. If you have questions about the preschool, contact us through the email form or contact Joyce Long (preschool liaison) at 541-230-0315.
8th Annual Alpine Cooperative Preschool Scamper!
Click here for the flyer, registration and sponsor form.