For the past 20 years, every November, Alpine Community Center volunteers organize the Alpine Holiday Festival.
This year the festival will be held November 12, 2022 from 9am to 4pm at the Monroe Grade School, 600 Dragon Drive, in Monroe.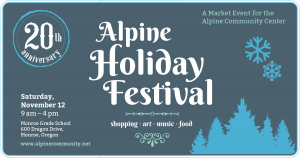 This free annual event has become a traditional gathering where neighbors meet for holiday festivities, and local artisans and crafts-people have an opportunity to showcase and sell their wares – perfect timing for holiday shoppers who like to "support local".
The festival includes food, live music, raffle, and a fashion show of clothing and accessories from Alpine Community Center's own Monroe Resale Shop.
All profits from the the event support Alpine Community Center operations or capital improvements. For more information or to request a vendor application, please send an email to alpinefestival@gmail.com
Want to:
Bake and donate a pie to the desserts buffet…?